BDSM (German)
Mistress to Yogi
Bron Nieuwsblad 2021, 15 januari
Mistress to Yogi. In 2010, Ira Van Damm, the extremely popular bdsm mistress from Sint-Job-in-'t-Goor with Lucrezia as her alias, was sent to prison. A British businessman had died during one of her sessions. She was suspected of attempted manslaughter and the story became world news. In the end it turned out to be an accident. Ira has now sought peace in India and told her story yesterday in Telefacts.
The life story of Flemish Ira Van Damm is anything but ordinary. At the beginning of this century, Ira, using the pseudonym Lucrezia, developed into a fanatical bdsm mistress and became a household name.
Bdsm is a form of sexual expression, in which the 'sessions' revolve around sadomasochism and related practices, such as bondage. A documentary was made about her tumultuous career last year: Ex-Dominatrix
Deadly accident during sesion…
Ira received her clients in the basement of her house in Sint-Job-in-'t-Goor, until her success came to an abrupt end on 22 June 2010. One of her clients, British businessman Robin Mortimer, died during a session. "He had come by many times before and had become a friend in the meantime," she says. "He had brought nitrous oxide and used it during the session. Suddenly he looked smiling and made a strange noise. Then he closed his eyes and didn't react anymore. I knew immediately that something was wrong."
Ira performed a chest massage while her assistant Juno called the ambulance. Ira's daughter was asleep in the living room at the time, until all the noise woke her up as well.
Ira and Juno end up in prison and have to go into pre-trial detention on suspicion of manslaughter. "She was also a victim of that whole situation. It was just a stupid accident," her family testifies. The accident soon became world news. "The headlines were full of lies, everything was blown out of proportion", it sounds.
During a reconstruction, Ira and Juno explained to investigators what exactly happened that night. "That reconstruction showed that my mother could not have killed her client. They finally saw that it was an accident," said Ira's daughter Charlotte.
Subsequently, the two women were released and the charge changed to 'administering substances that cause unwanted death'. The public prosecutor demanded thirty months' imprisonment.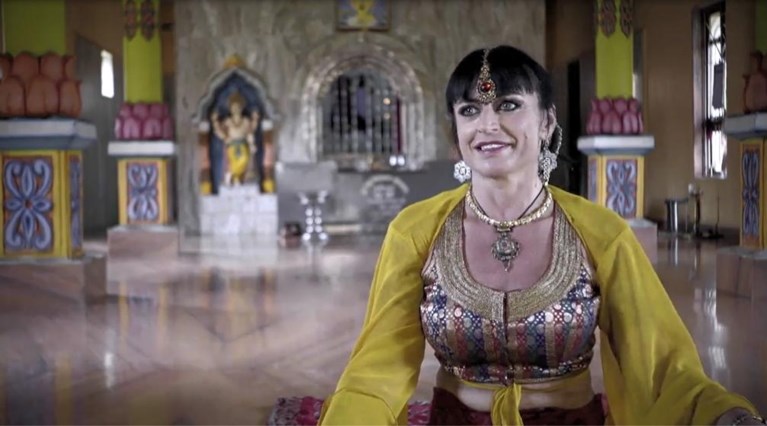 In the end, the mistresses are also found guilty, but the sentence is suspended. Today, Ira has completely turned her life around. She lives and works in Goa, a city in India. The house in Sint-Job-in-'t-Goor has been sold, and she is no longer professionally involved with bdsm. "But my body is still made for sins", she says.
About Goddess Lucrezia:
Goddess Lucrezia was a ultimate Dominatrix with a very beautifull SM studio in Sint Job in 't Goor. Read more about Goddess Lucrezia.